This guide will explain how to set up NordLocker on your iOS devices, view and manage your files, create new lockers, and save encrypted files.

Downloading and setting up iOS app
First, download and install the NordLocker application using a link to App Store on our website.


Open the installed application. On the main screen, you can CREATE NORD ACCOUNT or LOG IN WITH NORD ACCOUNT if you already have one.

Pressing one of the buttons will open https://nordaccount.com/ where you can log in to your Nord Account or sign up.


Once logged in, go back to the NordLocker application. If you were previously using NordLocker, you will be asked to enter your NordLocker Key.

If this is your first time using the app, you will have to create NordLocker Key. This password will be used to unlock the app and access your lockers. After creating NordLockery Key, you will get a prompt to save your Recovery Key. This key is the only way to get back into your account if you lose your NordLockery Key.

You can also generate a new Recovery Key in the application. To get the new key, open Profile at the bottom and tap Reset recovery key. You will be asked to enter your NordLockery Key.

Creating a new locker

On the main screen of NordLocker app, you will see all of your lockers that are automatically backed up and synced on all your devices.
To create a new locker follow the steps below:
Tap + button at the top right corner.


Name your locker and tap Create.


Uploading files
Note: Currently, you can upload only one file at a time and its size limit is 3 GB.
Open a locker where you want to upload files by tapping it.




Tap + at the top right corner and select if you want to upload a photo/video or another type of file. Select New folder if you want to use folders to organize your locker.




Saving files
Files in NordLocker can be saved while in preview mode.


Tap the file and select Open file preview.

Tap Share button.

Select Save to Files and choose to save on your device or iCloud.

Organizing your files


You can change how lockers and files are displayed by clicking the View icon on the right.

Tap and hold your lockers, folders, and files to rename or delete them.

Important: All deletions are permanent and we cannot restore the deleted files. Please make sure you no longer need files stored in the locker or have them stored in another place.

NordLocker Profile
To open your NordLocker profile, tap Profile icon at the bottom.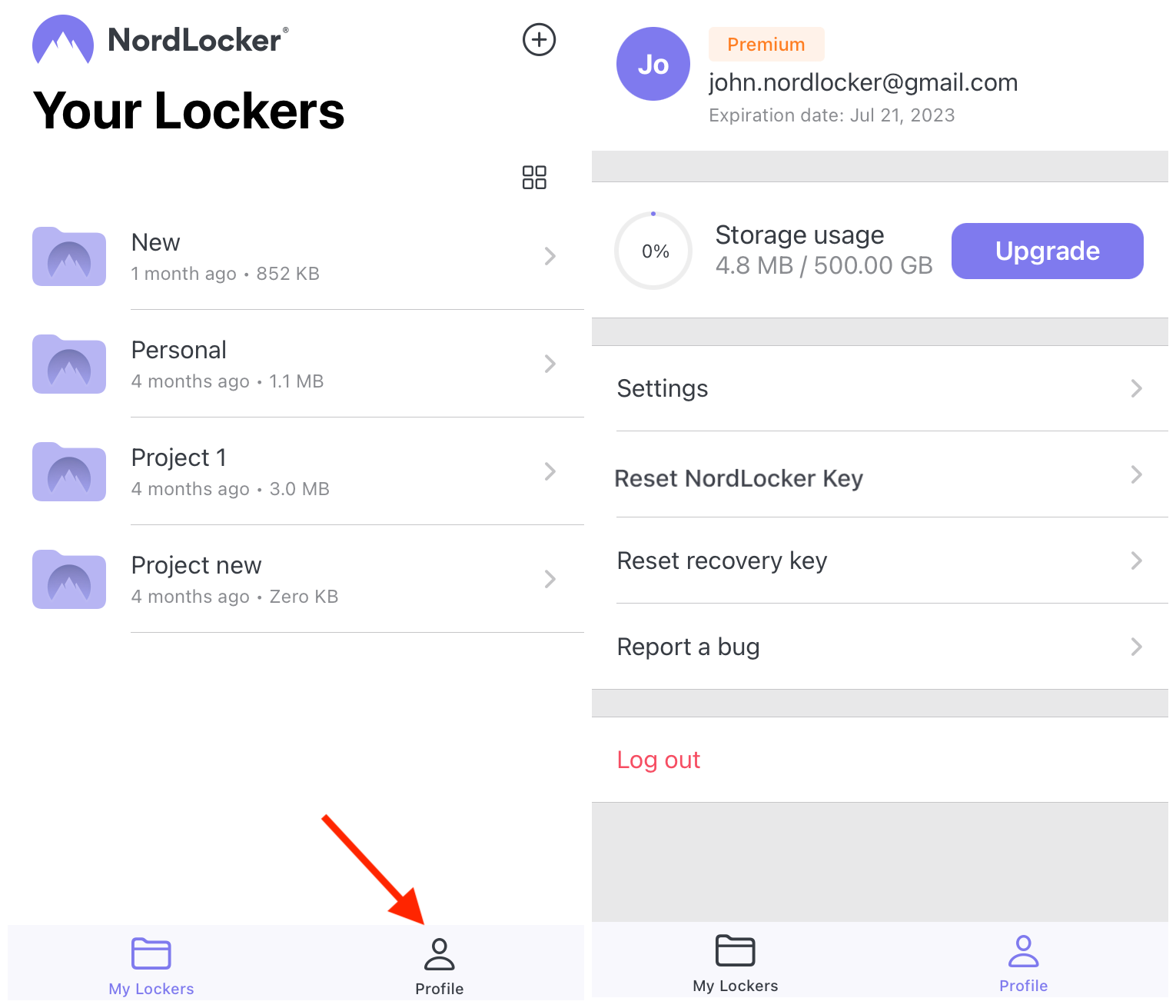 At the top of your profile, you will see your account's information: email address, subscription type, cloud storage usage, and plan's expiration date.





Here, you can also upgrade your plan, and reset your NordLockery Key or Recovery Key.





In the settings, you can find which NordLocker version you have installed.